NATIONAL HANDICAP ASSEMBLED PRODUCTS, INC.
About Us
We would like to tell you a little bit about who we are and what we do here at National Handicap Assembled Products.
We are a family owned and operated business in a small but growing community. Our "family" of employees have physical or medical handicaps that have affected their ability to join the mainstream work force in the past. Through on the job training, they learn job skills that will enable them to go out into the mainstream work force and succeed. Our employees are trained in areas best suited to each individual. Such as our sales team who work with our customers, office/clerical team, our ad copy and art department, our assembly team who sort and wrap our products, and our packing and shipping team who send out the products to our customers. Doing all of this in a safe and fun working environment makes us a great team!!

Our goal is to provide our customers with quality merchandise made in the USA and excellent customer service and we guarantee all of our products 100%. We have a variety of products to choose from including Promotional Advertising Products.
We at National Handicap Assembled Products believe in giving back and paying it forward. We are proud supporters of several charities, Riverside County Professional Firefighters Benevolent Fund, The Wounded Warriors Project, St. Jude Children's Research Hospital and Animal Friends of the Valley in Wildomar, Ca.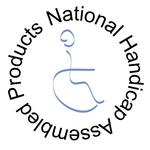 Our fax: (951) 471-1833
Our Email: nhap.1998@yahoo.com
For information on ordering, quanities, pricing or other information please call toll free (877) 273-6427.